UPDATE: As of January 5, 2021 we have raised $43,240
Its Giving Tuesdays! You read that correctly. Tuesdays: plural. We have some great ways to support the ministries of Jesus at Divine Redeemer, so why should we put all our eggs in the basket of a 24 hour period? Instead of beginning our time to support Divine Redeemer with the official Giving Tuesday (Dec 1), we are going to take every Tuesday in Nov until Giving Tuesday to ask for further support.
We have a BIG impact in our community between the ministries of our Church and School working together. Children are being baptized. Students are being discipled and formed by Jesus everyday – including Sundays! Confirmations are occurring. Serve Sunday was orchestrated. Men's and Women's Bible Studies are shaping marriages and supporting our Lake Country community.
Many of our ministries plan or are hosted on our campus. We have big needs at Divine Redeemer, so we have a big plan to help support our campus. Over the next 3 years, we have anticipated campus needs due to deferred maintenance. What does this mean? Here are some examples: We have a fire alarm system that is currently working but is past its prime in terms of its long-term usefulness – our fire alarm system needs to be replaced. Our day school, early childhood center, Sunday school and congregants should be able to worship and learn in a space with an adequate fire alarm system. Additionally, we have a schedule to replace our HVAC units; however, rather than waiting for one to break down, we would like to plan and get ahead before its winter and one breaks. These are just two examples of our campus rehabilitation plan. Our campus is aging, and we are aware that God's people know how important Divine Redeemer's facility is for many of our ministries to occur.
Big job? Yes. Bigger God? Absolutely. In fact, we are so confident in our Lord, that we are going to put all 3 years of the prioritized plan out for this first
Giving Tuesdays Initiative. If we can satisfy the year 1 goals this year, we're going to start on year 2 right now. If the Lord moves our congregation to
complete year 2, then we will start into year 3 right away. Here's the plan:

Year 1 Estimated Cost
Replace the Fire Alarm System $15,000
HVAC School Lobby $15,000
HVAC Hallway 4th Grade $15,000
New Screen for Sanctuary $5,000
Year 1 Goal $50,000
Year 2 Estimated Cost
HVAC Gym North $15,000
HVAC Gym South $15,000
Carpet Replacement (4th grade area) $5,000
Update Men's Bathroom (Church) $5,000
New Projector & Computer (Church) $7,000
Replace Sacristy Counter $3,000
Year 2 Goal $50,000
Year 3 Estimated Cost
Replace Carpet in School $10,000
Paint Narthex, Balcony, Choir Loft $10,000
New Oven & Hood (School Cafeteria) $20,000
Rehab Select School Bathrooms $10,000
Year 3 Goal $50,000
We know that this is ambitious for an initiative, but we want you to know that we are working diligently to steward God's resources well as we plan to take care of the gift of this facility. Divine Redeemer would prayerfully ask that you would consider a gift of any amount during this Giving Tuesdays Initiative to continue in the BIG impact to our community! God bless you as we continue to partner in the Gospel as we KNOW Jesus, as we GROW in Him, and as we GO and meet Him in His mission field!

You may give to our GIVING TUESDAY INITIATIVE through our PushPay Online giving tool or by writing a check to Divine Redeemer Lutheran Church with a note in the memo line of "Giving Tuesdays" and dropping it off in the church office.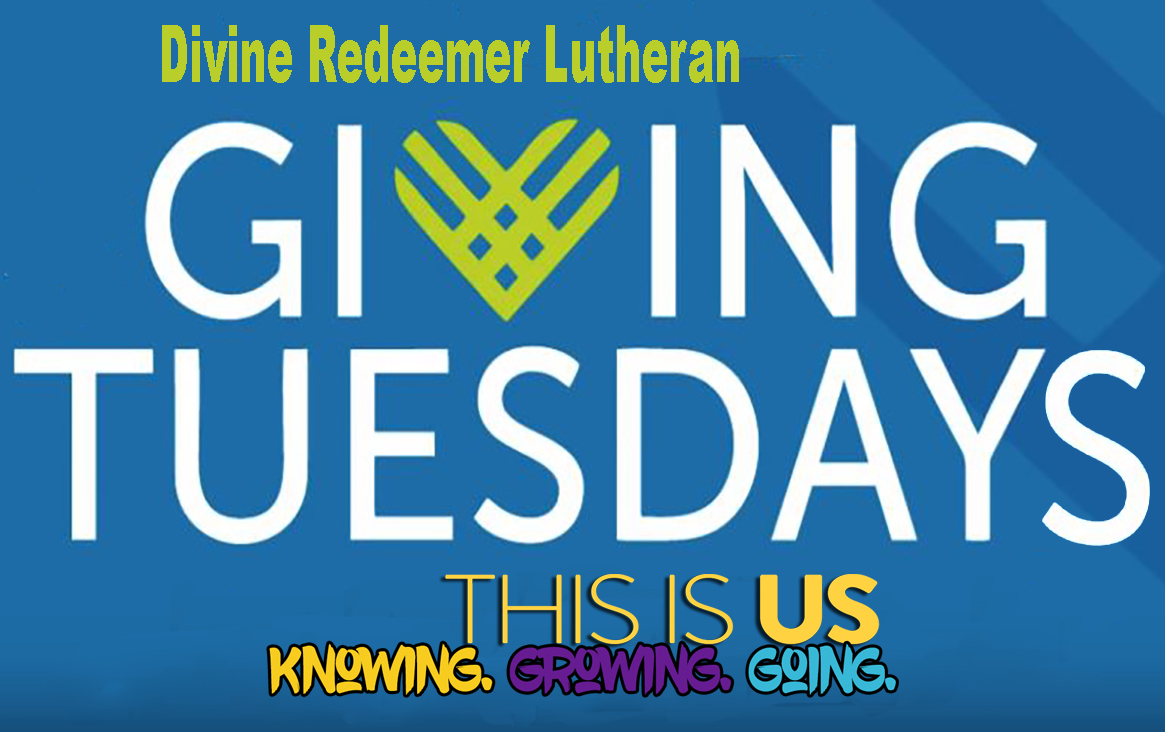 Giving Tuesday Thankfulness
Giving Tuesday Last Video